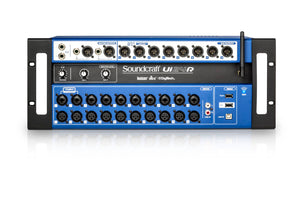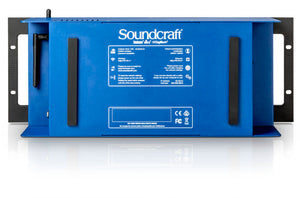 Soundcraft Ui24R 24-Channel Digital Mixer/USB Multi-Track Recorder with Wireless Control
Regular price
Sale price
$1,859.99 CAD
---
NEW - Get Ableton Live 10 Lite FREE with a Ui24R mixer
.
The Ableton Live 10 Lite software is an included download with all Ui Series mixers. Feed your creativity with this fast, flexible and sequencing workstation. From built-in instruments, sounds and effects to recording and mixing features, Live 10 Lite gives you everything you need to create, produce and perform.
Soundcraft Ui24R 24-Channel Digital Mixer / Multi-Track USB Recorder with Wireless Control
The Soundcraft Ui24R is a complete, rack-mountable, digital mixing and multi-track recording system that delivers flexible I/O, pristine sound quality, intuitive wireless control, and roadworthy reliability - all in a streamlined design. The system can be controlled by up to 10 devices via Ethernet or built-in dual-band Wi-Fi, making it possible to control mixing and multitrack recording wirelessly.
Ui24R provides 24 input channels, including 10 combo/XLR, 10 XLR, two line level, and two digital mix channels for a total of 24 simultaneous inputs. Renowned Studer preamps deliver rich sound for live performance and multi-track recording applications, while iconic Lexicon reverbs, choruses, delays, and dbx compression offer polished results for vocals, acoustic guitar and more. dbx AFS2 automatic feedback suppression is available on all monitor outputs, providing an excellent live experience. Plus, two channels of DigiTech guitar and amp modeling bring a host of effects to any performance or recording, particularly when low stage volume is desired.
Ui24R redefines the live mixing experience by giving engineers the freedom to control mixes from anywhere in the venue. Up to 10 devices can be connected simultaneously across reliable dual-band Wi-Fi, so musicians can adjust their individual mix on stage while the FOH engineer optimizes the audience experience. Thanks to HTML5 compatibility, the system can be controlled from any modern browser - including iOS, Android, Windows, Mac OS and Linux devices - without installing any apps.
Ui24R allows engineers and musicians to redundantly record their stereo mix, plus all 22 inputs, directly to a USB storage drive and a connected computer. The Ui24R is equally at home as the centerpiece of a multi-track recording studio, with easy integration between its USB audio interface and the user's DAW of choice.
Soundcraft Ui24R is part of the HARMAN Connected PA family of products, and offers full compatibility with the new HARMAN Connected PA app for easy control, fast setup and better-quality results. Connected PA eliminates the need for multiple apps or graphic user interfaces (GUIs) and delivers seamless plug-and-play operation with a variety of HARMAN equipment so users can control their entire live sound system with one app. Products within the Connected PA system self-identify with the new app for effortless set up, and setup wizards help customers to quickly optimize volume, configuration settings and sound quality.
From the stage to the studio, Soundcraft Ui24R is the ultimate system for artists, venues and engineers who need to save space and deliver superior sound.
Features
• Renowned Soundcraft quality and performance
• Built-in, dual-band Wi-Fi eliminates the need for a router - it provides a reliable connection to up to 10 mobile devices in mission-critical situations
• Control Ui24R from iOS, Android, Windows, Mac OS, and Linux browsers without installing additional apps
• Record and mix with the warmth of 20 professional-quality, Studer-designed preamps
• dbx compression and Lexicon reverb and delay processing
• 2 channels of DigiTech guitar amp modeling
• Dual-path, redundant multi-track recording of all 24 inputs to USB drive and connected Mac/Windows computers
• 24 Simultaneous Inputs: 10 combo TRS/XLR (including 2 Hi-Z/instrument inputs), 10 XLR, stereo RCA line, 2 digital
4-band parametric EQ, high-pass filter, compressor, de-esser, and noise gate on input channels
• 31-band graphic EQ, noise gate, compressor, and dbx AFS2 automatic feedback suppression on all outputs
• Real-time frequency analyzer (RTA) on inputs and outputs
• Compatible with Mac/Windows DAWs and other music software
• Compatible with Harman Connected PA application and system for easier setup and control
• 4 RU rackmount design